Temecula Wedding Photographer
"Did you ever think that maybe there's more to life than being really, really… really ridiculously good looking?" - Zoolander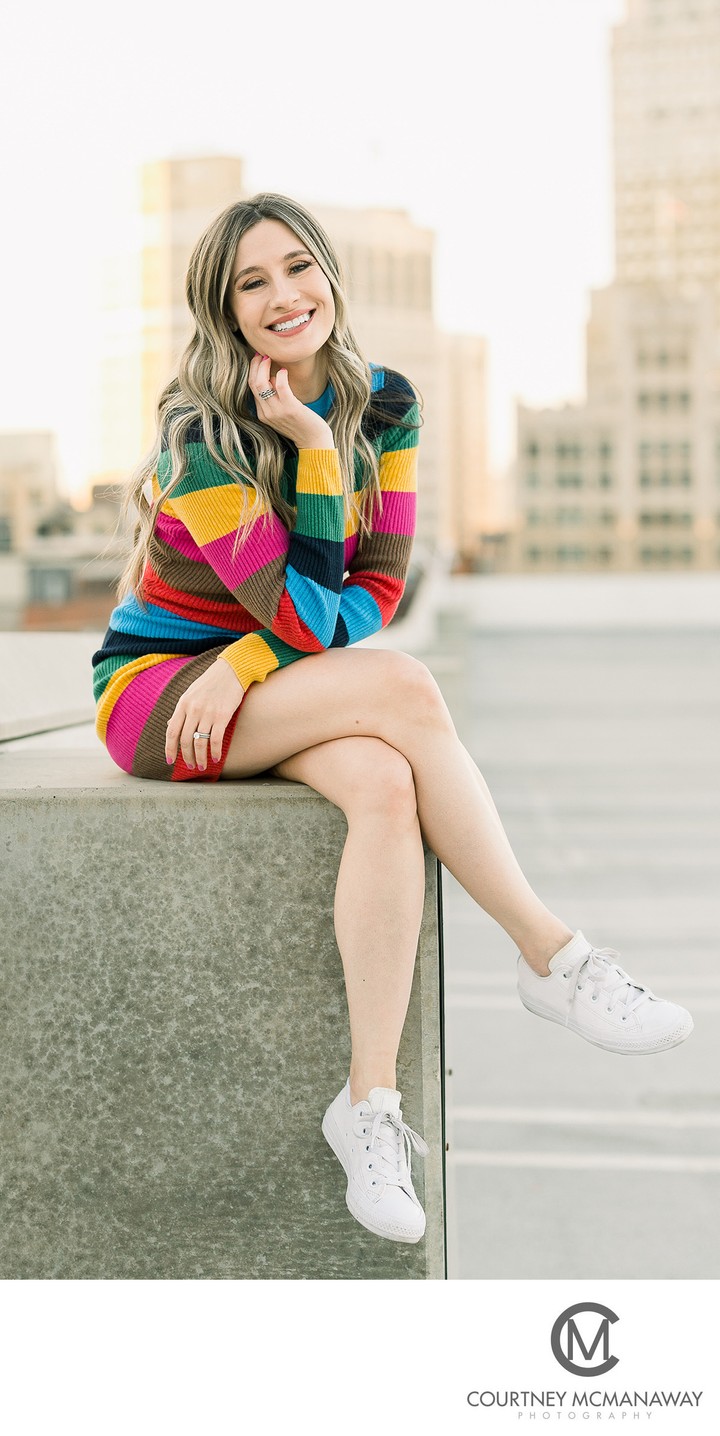 Hello website peruser! If you're here, you're probably looking for a wedding photographer. And you've probably looked at a few websites and are starting to see commonly-used photography words in your dreams.
"Authentic...natural light...timeless...light and airy...candid...dark and moody...wildly in love..."
Not gonna lie, I'm going to use some of those words because they are good words. But when I think about describing my work, style and experience with clients, I want to root it in how you FEEL.
There's nervous awkwardness when you're in front of the camera for the first time (every client I work with says, "We're not models!"). There's the excitement when slipping onto your dress, or putting on your custom-made socks. There's the exaltation you feel when walking down the aisle with your NEW (!!!) spouse. There's the tears when your dad toasts the newlyweds, the laughter when your grandma brings the photobooth props on the wedding floor, the sweet closeness you feel when dancing to your first song.
The question for you is how do you want that captured? If you want to work with a photographer that's emotion-centered, that helps to take the awkwardness out of photos, that streamlines your day so it's stress-free, that edits in a timeless way so you feel your memories instead of cringing at obvious editing, all while dropping Zoolander and Stepbrothers and Talladega Nights references...well, I might very well be YOUR wedding photographer.
My Experience
My photography career started in Orange County in 2010,and in 2013 my husband and I moved to the Temecula Valley. I've been photographing weddings here locally ever since! I frequently work with out-of-area couples as Temecula has flourished into a destination market over the past decade, and I'm fortunate to have a wealth of knowledge to pass along!
In my decade-plus experience as a wedding photographer, I've photographed over 200 weddings. I often say the most important asset you're hiring on a wedding day is experience. I may have photographed at your venue 20 times, but YOUR wedding day will be unique, from the weather, to time of year, to how you choose to decorate your venue, and the timeline we put together that prioritizes your needs! The experience of working in rain or shine, summer or winter, 2 person elopement or 300 guest wedding, means I approach each day with the perfect marriage (sorry couldn't pass that up) of your priorities and the skills to make the hundreds of quick decisions on a wedding day to get you the very best memories in your photos.
Reviews
100% of my client reviews over my career have been 5-star reviews! Listen, what good are great photos if your experience is frustrating or sucks? Well, I mean I guess you'll still have good photos, but really, that's no way to be! I aim to be your most helpful vendor and get to better know you to not just deliver those amazing photos, but create an amazing wedding day experience too!
This review below (from amazing groom Tim!) is some of the best feedback I can receive! I work with so many clients who are nervous about getting their photos taken and are thrilled with the end result - like I know you will be as well!
Then we saw our photos and were absolutely blown away by how perfect they were. She really captured my beautiful wife and even me who generally doesn't like to take photos.

With Courtney, the whole process was easy and streamlined. The wedding was fun and easy. And the photos fantastic. We both highly recommend Courtney and next time we need a professional photographer or someone to show us how to giggle-laugh we know who to call. - Tim + Stephanie
Some Reasons Why I Might Be the Temecula Wedding Photographer For You
Local Knowledge
Temecula is one of Southern California's most popular wedding destinations! That means a majority of couples are coming from other areas in California or outside of the state. As a local wedding photographer and member of Creative Pro Temecula, I'm part of the close-knit local vendor and venue network. I frequently help my clients with my personal recommendations of the best wedding vendors to not only pull together your wedding vision but ensure a stress-free day! For couples who want their engagement portraits in the Temecula area, I'm familiar with the best spots to get the pictures you want!
My Photography Style
I favor bright colorful images for bright colorful couples! My work is first and foremost about the emotion of your day - the first time you see each other, your mom as she helps to get you in your wedding finery, the laughter, and tears during your reception toasts.
Lighting Expertise
All those magical, wonderful, and fuzzy moments won't matter to you...if the lighting sucks. My ten-plus years of experience means I can help on your wedding day to capture those priceless moments in the best light - whether that's window light, sunset light, or flash during an outdoor wedding reception.
Timeless Editing
My dad could wear some bell-bottoms! While I'm extremely happy as his daughter that this photographic proof exists, I wouldn't call that look "timeless."
I look at your wedding photos the same way and take a timeless approach to my editing. I adjust images for vivid, true-to-life colors, exposure, and contrast. Twenty years from now, I want you to look back at your wedding photos and feel the joy and love of the day, not, "Maaaaan...was that the editing style in the 2020s?"
Personality
Is the personality of your photographer really important? YAAAAAS QUEEN! It really is!
As the person on your wedding day who will be working intimately with you, your closest friends and family, you'll want someone with a positive attitude that can corral a sometimes over-exuberant wedding party! When things run behind, you'll want to turn to me and I'll tell you how we can make up time so you can get the photos you want. I tend to work with joyful, exuberant, and sometimes silly couples - which are also ways I'd describe myself! Imagine that :)
You'll Know What To Do With Your Hands
If you've seen the comedy classic Talladega Nights, you'll remember the scene where Ricky Bobby is being interviewed and he says, "I don't know what to do with my hands."
Well, when you're working with me, you won't have the Ricky Bobby experience! Nobody wants to be posed - but since we're not professional models, my job is to help get you set up in natural, flattering interactions that show your personalities and affection for one another! The process is interactive, engaging and you'll definitely feel weird or like, "This is ridiculous!" at times. And that's how I get those natural laughs from you!
Expert Advice on Your Timeline
While I'm not a wedding planner, I am an expert on how much time you'll need to dedicate to areas of your day to ensure you get great photos AND have a stress-free experience. I'll also be honest and tell you what you don't need.
For instance, I rarely stay through the end of a wedding reception. Why? Because after about an hour of coverage, dancing photos get monotonous. Most couples prefer to front-load their timeline because they prioritize capturing getting-ready photos and wedding party photos earlier in the day. This helps save you money if you're not paying for 10 hours of wedding day coverage, when 8 is perfectly sufficient.
The thing that really stuck out to us about Courtney is her personality, she is so down to earth and go with the flow to make you feel comfortable. She is a great hype woman and makes you smile while taking photos which was great because we never felt awkward once during our time with her and that was key for us. - Lindsey + Torin
I Know What's Important to You Now and 20 Years from Now
I've been married for almost 13 years now. And when I was planning my wedding (I mean...our wedding) I was very excited about all the wedding day DETAILS! Colors, cakes, florals, dresses, oh my!
13 years later, when I look through my photos, the ones that pull at my heartstrings are of our family and friends. My husband and I have had several people pass away since then, and the candid memories our photographers captured on our wedding day are priceless.
Your wedding day is likely the only time in your lives that you will get these family and friends together to celebrate YOU. My work is from that perspective. I will capture your beautiful bouquets and to-die-for wedding shoes - but more importantly, I will capture the images of your family and friends in moments of joy, laughter, and tenderness, and those are the moments you will treasure when you look back on your day.
My Wedding Photography Photos
You can view a curated selection of some of my favorite wedding day moments here. You'll see I favor laughter, tender moments, vivid naturally-lit portraits, dramatic black-and-white photos, and authentic emotion.
See A Full Wedding Gallery
Yeah, a portfolio of curated photos is great, but what about a full delivered gallery of one wedding day? You got it! A gallery is one of the best ways to evaluate a photographer so you can get a true sense of what YOUR wedding day photos will look like!
Average Temecula Wedding Photographer Pricing
I went to 12 of the top-ranked wedding photography websites in Temecula (including mine - hair toss!) and averaged out the wedding collections and/or the listed starting price to come up with the following figure:
Average Temecula Wedding Photography Price - $3,219
This would be very useful information if all photographers created their wedding collections identically. However, we don't!
I created my own pricing from the foundation of client needs and in my experience as both a bride and wedding photographer, what are the essentials for a couple.
We cannot begin to express how wonderful our experience was with Courtney. We felt cared about, prioritized, and part of the photography process. Courtney helped us capture absolutely stunning moments that we will be able to look back at time and time again! - Marlene + Michael
What I Include In My Wedding Photography Packages (The Essentials!)
Two Photographers
Time is the most precious asset on a wedding day. Once it passes, it's gone! In order to capture not only all the details, all the getting ready moments, all the sweet family interactions, all the laughter with friends, I need a copy of myself. Unfortunately the clone I created turned out to be an evil doppelganger, so I turned to the next best thing: a second shooter!
A second shooter means as a team we can fully cover your day and split up as necessary to provide the most comprehensive coverage. I work with other photographers that have their own full-time photography businesses so you're ensured a high-quality and professional second photographer. I do all the editing so the gallery you receive will be consistently edited.
Engagement Session
An engagement session is a great way to get fun, casual, and personable photos of the two of you - but it's more than that! Most couples I work with are nervous to get in front of the camera! The engagement session is a way for you to get used to how I will help guide you through the ENTIRE session and make it enjoyable, and to be honest, pretty funny at times! You will LOVE your photos and when I arrive on your wedding day, it will feel like friends getting together!
Digital Files
Both your wedding and engagement photos come with a gallery of high-resolution digital files. This means you can make your save-the-dates, you can post your photos on Instagram, you can give your parents a gift of a poster-sized image of you from your wedding day and be VERY offended if they don't hang it up. The world is your oyster!
My Temecula Wedding Pricing
Full wedding day coverage starts at $4,200. Head on over to my Contact page to get in touch with me!
Temecula Elopement, Minimony or Micro Wedding Photography Pricing
In 2020, I photographed more intimate weddings than in any other year! While most of these were out of necessity, intimate weddings are fantastic because couples can focus on what's really important to them and spend more time with their closest family and friends on their wedding day. In fact, I wrote a whole article on Temecula Elopements, Minimonies & Micro Weddings.
My Micro Wedding Pricing starts at $700. Head over to my Contact page to get in touch with me!
Frequently Asked Questions
The best way to answer this question is to schedule a consult! If you're having a wedding with an average of 100 guests, you likely need 7-8 hours of coverage. You'll need more time if your wedding ceremony and reception are in two separate locations, or if you would like to leave your wedding venue to get pictures in a different area of your city.
If you've ever taken multiple selfies to get the one you like the best, you'll understand the answer to this is no :) The beauty of digital is that I often take several frames of important moments and cull my images so you receive the best-of-the-best.
For weddings with 2 photographers, you'll receive approximately 100 images per hour. For weddings with one photographer, you can expect 50 images per hour.
You'll receive a sneak-peek gallery within 3 days of your wedding! Your full high-resolution gallery will be ready for viewing and download within 6 weeks of your wedding.
There are two levels of wedding editing: basic corrections, and retouching. I edit all delivered images for color, contrast and exposure. Your final files will be ready-to-print and delivered to you in both color and black and white.

Retouching is not included and is a service I outsource to the experts. For clients that want specific photos retouched after gallery delivery, I will get a quote for you based on the retouching requested.
I'll first off state that I have NEVER missed a wedding in 10 years due to illness! Regardless, know that you are covered in case of an emergency! There is a provision in my contract that that entitles you to either have me find you an equally talented photographer (something I'm able to do quickly as part of a large local photographer network!) or refund your money if you'd like to select someone else.
I don't charge a travel fee for wedding photography from San Diego to the Los Angeles area. Outside of a 2 hour drive from my home, I may charge for a hotel stay.

Engagement sessions have no travel fees if they take place within 20 miles of Temecula; otherwise, touch base with me to get a travel quote!
Of course, I can only answer this question if I know your venue! :) For venues at which I've never photographed a wedding before, I will do a site visit one month before your wedding as long as it's within an hour's drive time. One important note is that even if I've photographed at your venue 5 times, your wedding day will be unique! Weather, time of year, timeline, and number of wedding party members will all impact how your photos look. That's why it's so important to hire an experienced professional - you can be assured of receiving awesome images no matter the circumstances of your day!
I do not sell prints - instead all clients receive a print release with their wedding gallery, which enables you to print your photos to your hearts' content! (I recommend mpix.com for the highest-quality prints). I do offer custom-designed flushmount albums. My 8-hour collection comes with an album; in other packages an album can be added on an a la carte basis.
No, I stick to what I know best - taking great photos of you! I do have referrals if you need them!
I look at all the wedding professionals you hire on your wedding day as a team! I understand videographers have different requirements for what they need to give you the best product. So we will tend to "take turns" to ensure everyone is able to provide you with stellar images and video after your wedding day.
You can see a link to my COVID policies
here
.
Much like AC/DC, I'm back in black! I always dress professionally, I currently favor an awesome Express black jumpsuit and Cole Haan Zero Grand oxfords! I need good shoes because sometimes you gotta run! :)
I photograph one wedding or event per day. Weddings are intense, high-energy events and this is the best way for me to ensure that you receive my full attention and enthusiasm (a Red Bull helps too!).
I have an easy-peasy online booking process! You are able to select your package, sign your agreement, and pay your retainer online. 30% of your selected package is due as a non-refundable retainer at time of booking; the remaining balance is due one month before your wedding.
Some of My Favorite Temecula Wedding Venues
There's a whole list of great Temecula wedding venues you can check out! Temecula, of course, specializes in winery wedding venues, but there are also ranches, farms, and estates. From both a photographic and experience perspective, here are a few of my favorites.
Temecula Winery Wedding Venues
Avensole Winery - this venue has one of the most unique reception rooms in the Temecula Valley with panoramic views that open to their vineyards.
Bel Vino Winery - this venue has panoramic views of Temecula Valley. It also has Bel Vino House, a gorgeous on-site property where you can stay in advance of your wedding day!
Fazeli Cellars - THAT STAIRCASE! If you've seen Fazeli Cellars you know and love that dramatic staircase!
Lorimar Winery - Lorimar Winery has a gorgeous vineyard lawn space and barrel room as well. For those looking for a classic "Temecula" wedding feel this winery is a great choice!
Wiens Family Cellars - I have a soft spot for Wiens because I adore their L'Orange sparkling wine! Delicious bubbly drinks aside, the Wiens team is outstanding and there are multiple ceremony and reception options available for your day!
Temecula Resort Wedding Venues
Temecula Creek Inn - this is one of the best wedding venues if you want an all-inclusive resort-style feel to your day. Your guests can stay on-site to enjoy your day!
Pala Mesa Resort - This is another wedding venue where you're able to enjoy your wedding day while having your guests stay on-site and make a weekend of it! Pala Mesa has beautifully manicured grounds and a gorgeous bell tower that makes for an exceptional ceremony area.
Temecula Farm Wedding Venues
Forever & Always Farm - I adore this venue because the owner (Pam) is awesome in so many ways and it's unique as a garden-style wedding venue complete with ALPACAS! This venue is located in Murrieta, so it's not in Temecula proper, but it's so unique that I wanted to include it!
Temecula Estate Wedding Venues
Oak Ridge Creek - I recently photographed a wedding at this Temecula estate and it's a great option for someone who wants to bring in their entire wedding vendor team. You'd definitely want to hire a wedding planner to ensure seamless coordination on your big day! The venue sits on 13 acres and features 3 homes, so you can stay on-site, mature trees, stone steps, and a breathtaking view of Temecula Valley.
Temecula Barn Wedding Venues
Winter White Barn - Many Temecula venues have a "rustic" feel and barn venues certainly convey an image of a mahogany-hued barn. As the name implies, Winter White Barn is white in color! This gives it a fresh, modern feel for your wedding day images.
I received the link to the gallery of my photos and I love each and every picture in this gallery. Courtney and her second shooter did an absolutely amazing job. Their pictures truly transported me back to my magical wedding day.

I cannot say enough positive things about how wonderful working with Courtney was. She was worth every penny. - Monique + Jeremy
Beyond Temecula Wedding Venues and Vendors
Having worked with so many out-of-town brides and grooms, I put together a comprehensive guide called How to Get Married in Temecula. Check it out for all you need to know, including hotels, the closest airport, and activities and nightlife in the Temecula area!
My