Forever and Always Farm is an amazing outdoor garden wedding venue located in Murrieta, CA. Located along the Santa Rosa Plateau, I've been fortunate to photograph weddings here several times and I love all the property has to offer! Forever and Always Farms has so many amazing amenities for couples:
On-site getting ready suites
An outdoor ceremony space overlooking Santa Rosa Plateau
Covered reception patio dining with a combination of long and round tables
Immaculate landscaping! A seriously amazing amount of flowers and greenery.
Alpacas!
I was so thrilled when Marissa and Nick hired me to photograph their Forever and Always Farm wedding! They are such a sweet, genuine couple with so many amazing family and friends in their lives! Their two kids were able to take part in their wedding day, which made the festivities that much sweeter!
I started with Marissa in the beautiful, light-filled bridal suite!
Nick was getting ready with his guys in the suite next door! Check out his custom socks!
I LOVE ceremonies where couples write their own vows! Marissa and Nick shared the sweetest expressions during their ceremony!
Forever and Always Farm has no shortage of gorgeous settings for wedding day portraits! I just love this beautiful tree with a gorgeous rope swing!
The vintage Porsche is always a groom favorite 🙂
And of course, alpacas! A standard of a Forever and Always Farm wedding is getting portraits with their sweet alpacas!
Forever and Always Farm has a beautiful reception space! It was decorated with gorgeous florals and greenery! I love the colors Marissa and Nick chose for their day!
Let's get this party started!
The dance floor was packed all night!
Congratulations, Marissa + Nick!
Note to anyone reading this: Forever and Always Farm is permanently closed as of 2022. Check out these other articles for additional venues in the Temecula Valley area!
Temecula Wedding Venues
Murrieta Wedding Venues
Fallbrook Wedding Venues
Corona Wedding Venues
Forever and Always Farm Address
43455 Corona Cala Camino, Murrieta, CA 92562
Location in the Santa Rosa Plateau
Forever and Always Farm is located in the hills of the Santa Rosa Plateau, a protected grassland plateau in Riverside County. The venue is in a remote area surrounded by beautiful grasses and large oak trees. This gives the venue a unique feel, and because you have access to surrounding areas, it lends itself to countless photo opportunities.
Venue Capacity
130
Availability for Booking
Forever and Always Farm is a seasonal venue and hosts weddings from April through November.
Minimum Guest Counts
The Friday and Sunday minimum guest count is 75 guests. Saturday wedding minimum guest count is 100.
Direct Contact with the Venue Owner
Having photographed 4 weddings at Forever and Always Farm, I know Pam is an active part in making wedding days run smoothly and stress-free! You'll find Pam helping out with the set-up, driving the golf cart, and doing everything to ensure the newlyweds and their guests have a great time.
On-Site Coordinator
In addition to working with Pam, each couple also has a day-of coordinator to help out on the wedding day.
On-Site Decor and Linens
The owner keeps an extensive inventory of decor that couples are free to use to incorporate throughout their wedding day! These include linens, table numbers, chargers, candles, mirrors and more! Because of the extensive landscaping and greenery of the property, many couples will find they don't need to spend as much on elaborate floral arrangements.
Wedding Vendors
Forever and Always Farm has a catering company they work with exclusively. Outside of that, couples are freely able to bring in their own vendor team, and of course, they have a preferred vendor list!
Bar Service
Couples can bring in their own beer, wine and alcohol through the Farm's licensed bartender, which is a great way to save money on your reception costs.
Getting Ready Suites
Forever and Always Farm has my favorite getting-ready suite of any Temecula Valley wedding venue! The suites are located in a darling farm-style house with huge windows. This means lots of light for your getting-ready photos!
The bridal suite is thoughtfully decorated with sliding barn doors, elegant candles, and gauzy linens that give your photos an angelic feel! The groom's suite has a barber-shop set-up and is complete with a Foosball table and TV.
The covered patio just outside the doors of the suites is a great location for family pictures. There's also a lovely circle arch next to the suites I like to use for wedding party photos!
Couples getting married at Forever and Always Farm can access the suites as early as 9:00 AM on the day of their wedding and have exclusive access to the property.
First Look Location
Because of the way the sun hits Forever and Always Farm, I like to use the ceremony walkway space for first look photos on a sunny day. It provides enough even light AND privacy for those special moments!
If it's a cloudy day, there's also a path just below the ceremony space that's a great option for photos, too!
I like to use hidden spaces for first look photos because it means for better photos of the two of you if it's a private moment (well…except for me, I guess!).
Beautifully Designed Garden Space
Besides the grassy fields next to the venue, the owner (Pam) has put a lot of thought into the property! There's a beautiful tree with a swing where every couple loves to have their photo taken! The property is landscaped with white roses and has a lovely lush look in the spring and summer.
Outdoor Ceremony Site Overlooking Santa Rosa Plateau
The ceremony site overlooks the plateau, which leads to gorgeous views in your ceremony photos! There are several arches that are filled out with greenery that look beautiful in your ceremony images!
Cocktail Hour
Cocktail hour takes place directly adjacent to the ceremony. There are tray-passed hors devours and in the open grassy space, your guests can enjoy cornhole and the open bar. During cocktail hour, I take your family photographs in the open ceremony space, and then we'll spend some time getting pictures on the tree swing, in the grassy plateau, at the quaint chapel, and in the 1957 Porsche Speedster Convertible!
Covered Reception Space Featuring Farm Tables and Rustic Decor
The reception space at Forever and Always Farm features a head table that has wood stumps, flickering lamps, and your choice of florals. Guests sit at a variety of round tables and long farm tables. The space is intimate and during your toasts, you'll have great views of everyone there to celebrate your day!
For the weddings, I've photographed at Forever and Always Farm, I always set up flashes to cross-light the floor. This helps to create a beautiful rim light on you and your guests during the toasts!
Reception Courtyard
While dinner takes place under the covered pavilion, the reception events such as dances, cake cutting, bouquet toss, and garter toss take place in the courtyard, which features a stone-covered dance floor, a fountain, and in the corner a few peacocks! Receptions last through 10:00 PM.
Rainy Wedding Days
I've photographed one wedding that was rained out at Forever and Always Farm. Pam and her team reacted quickly and we used the reception space as the ceremony, and afterwards they converted it back to the ceremony space for dinner. We were fortunate that there were a few rain-free periods so we were able to get on-site photos in those pockets of time.
Alpacas
That's right – Forever and Always Farm has ALPACAS and they're the hit of every wedding! Typically right before sunset we'll get into a golf cart and go across the field to get images with an alpaca! Here's a picture of Hillary and Michael with Ted!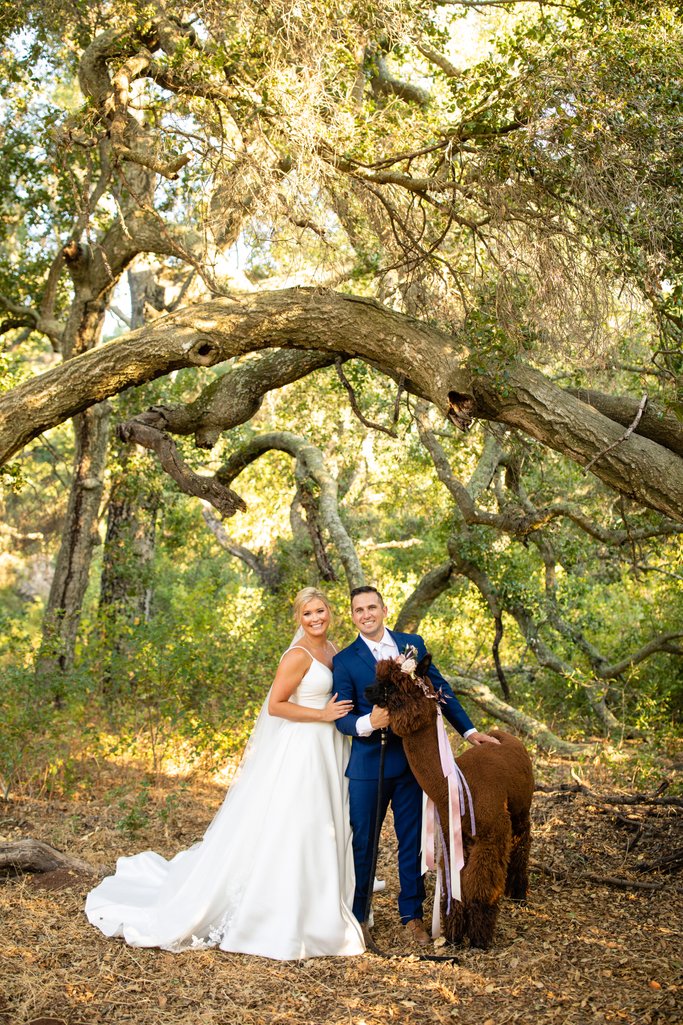 Parking
There's a packed dirt parking lot at the bottom of the venue; Forever and Always Farm is up the hill and a pretty significant hike! The venue provides a golf cart to help shuttle guests up and down the hill.
Nearby Accommodations
Forever and Always Farm is off the beaten path and the closest hotels you'll find are 13 miles away. Below are links to the four closest hotels.
Residence Inn Temecula Murrieta
Courtyard Marriott Temecula Murrieta
Nightlife & Entertainment in Murrieta
If you have guests coming from out of town staying in a hotel closer to Temecula, I recommend Old Town Temecula! There's plenty of options for food and entertainment, both day and night, and they also have events throughout the year. Visit Temecula Valley is a good source of information.
Phone Signal
Due to the remote location, you may not have reliable phone service while at the venue. If you know your guests may be taking an Uber or Lyft, advise them to book their ride back in advance.
Wedding Planning Resources
Wedding Timelines for Every Season
Everything You Need to Know About Having a Wedding Day First Look
7 Tips for Popping Champagne at Your Wedding
What to Do if it Rains on Your Wedding Day