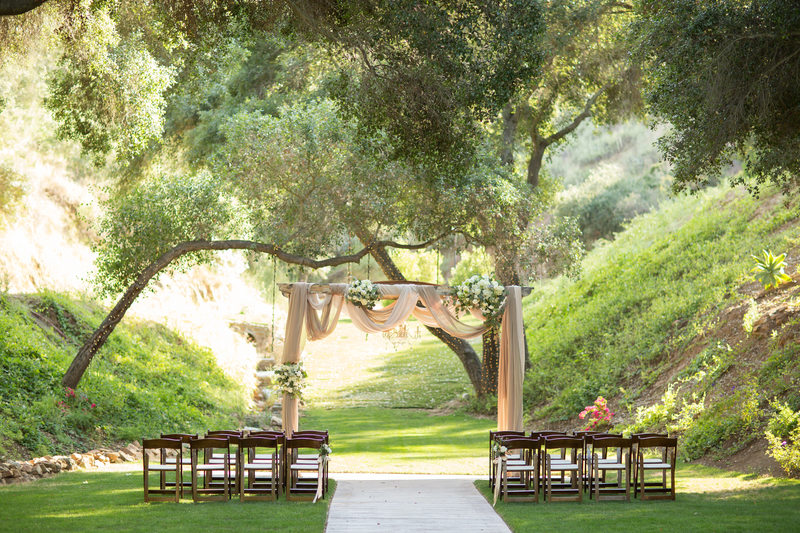 Fallbrook is one of San Diego's northernmost cities. It once served as a stagecoach stop between Temecula and San Diego. Known for its avocado groves (and avocado festival!), Fallbrook has plenty of open space and a smattering of event venues. If getting married in a location with a secluded feel is important to you, Fallbrook is an excellent choice!
Location
Fallbrook is located off freeway 15, in north San Diego County. It's extremely close to Riverside County and about 16 miles from Temecula.
Accommodations
Fallbrook has just a few hotels, including Pala Mesa, Fallbrook Hotel and Coral Tree House B&B. Pechanga Resort is about 16 miles away from Fallbrook. The next closest city is Temecula, and there are a number of wineries with accommodations. These venues include Ponte Inn, South Coast Winery, Carter Estate Winery, Temecula Creek Inn, and Inn at Churon Winery. Old Town Temecula also has hotel options, including Springhill Suites, Embassy Suites, and Ramada Inn.
Closest Airports to Fallbrook
San Diego International Airport (SAN) is the closest major airport to Fallbrook, at 58 miles away. Orange County International Airport (SNA) is 67 miles away. Ontario International Airport (ONT) is also 67 miles away.
Car Transportation
Most Fallbrook venues are in secluded areas. If you're planning on taking a cab, Uber or Lyft, plan on booking your transportation in advance to ensure you aren't stranded.
Weather
Fallbrook is slightly cooler than its sister city, Temecula. The hot season is early June to late September, which also coincides with popular wedding dates. Temperatures can reach 100+ degrees during the summer.
Popular Wedding Months
Most weddings take place in Fallbrook from April – October. This span of months represents the growing season in southern California and when on-site landscaping blooms will be at their most vibrant! I've photographed weddings well into November when leaves were still bountiful. On the flip side, you're most likely to get a reduced reception rate if you get married December – March.
Obtaining a Marriage License in San Diego County
In order to get a marriage license in San Diego, you must first make an appointment with the County Clerk. Once issued, the license is valid for 90 days for ceremonies performed in California.
Both parties must appear at the appointment with valid picture identification. Both parties must be unmarried for the license to be issued. If a marriage dissolution has taken place within the past 90 days, a copy of the final judgment will need to be supplied.
The fee for a public marriage license is $70 and the fee for a confidential marriage license is $89. For a public marriage license, one witness is required. For a confidential marriage license, no witness is required.
The County Clerk performs civil marriage services for a fee of $88.
For those who wish to have a family or friend perform their ceremony, San Diego County offers a Deputy Marriage Commissioner for a Day. For a fee of $80, a friend or family member can become deputized by submitting an application at least 3 weeks before the wedding day. The applicant must also take the Oath of Office at the County Clerk, by appointment, or a notarized application can be mailed in one month before the wedding.
Marriage licenses must be returned to the County Clerk office within 10 days of the marriage ceremony.
For more information on licenses, visit the County Clerk website.
Fallbrook Venue Types
Fallbrook venues are commonly described as estates and ranches. They range from elegant affairs at Grand Tradition Estates to a more rustic feel at Circle Oak Ranch.You can see my article on Fallbrook wedding venues below!
Venue Discounts
Each venue has an individual approach to discounts they may offer. Weekday weddings may cost less than weekend weddings. If you're having a smaller guest list, a weekday wedding may be an excellent choice, as some venues also have guest minimums for weekend weddings. Off-season dates may also be discounted, which may range anywhere from November – March.
Event Size
Fallbrook wedding venues can accommodate both intimate and large weddings. The venue with the largest capacity is Grand Traditions, which can host up to 300 guests.
Bringing Vendors into your Venue
Each venue has a unique approach to allowing vendors into the property for hosted events. Most venues will have a preferred vendors list, although the couple typically is not required to only choose vendors off the list unless the venue specifies otherwise. Nearly all Fallbrook properties will require your vendors to provide them with a liability insurance certificate.
Vendor Discounts
Wedding professionals also have individual approaches to any discounts they may offer. Inquire with each company to see if you can secure a reduced price.
Catering
Your venue will either have on-site catering or a relationship with a preferred catering company. A common exception will be for your bakery providing your cake or desserts.
Sparklers
Sparklers have become more popular in the past few years; however, all forms of fire (especially at night…and especially with libations!) are extremely dangerous in southern California. Fireworks, including sparklers, are illegal in San Diego County.
Activities in Fallbrook
Fallbrook has no shortage of outdoor activities! Fallbrook's a great city for a hike, a family visit to a farm, or taking in the scenery at a local winery!
Outdoors
With a wealth of outdoor space, there's plenty of nature-based activities in Fallbrook. Visit Myrtle Creek Botanical Gardens and enjoy the plant life and lunch at their cafe. Santa Margarita River Trails is a 5.8 walking loop with a gorgeous view. Live Oak Park has trails, camping, and regular events.
Golfing
Fallbrook has two main golf courses at Pala Mesa and The Golf Club of California.There are a number of golf courses in neighboring Temecula, including CrossCreek Golf Club, Temecula Creek Inn, Journey at Pechanga, Redhawk Golf Course and Legends Golf Club.
Casinos
The closest casino to Fallbrook is Pechanga Casino.
Shopping
Fallbrook has a number of local shopping options. The closest major mall is the Temecula Promenade.
Kid-Friendly
Kenny's Strawberry Farm offers family fun during prime fruit picking season. Lavender Hill Pumpkins are a must-see come fall – they grow three dozen pumpkin varieties, with some approaching 300 pounds! Old Fliegler's Farm is a fun place to see some miniature donkeys and other farm animals!
Wineries
Fallbrook has several wineries, including Estate d'Iacobelli, Myrtle Creek Vineyards, and Fallbrook Winery.
Restaurants and Nightlife
Some of Fallbrook's highly rated restaurants include Oink & Moo, Firehouse Que & Brew, Estrella's, and 127-West.
Pechanga Casino is close to Fallbrook and offers a variety of events and nightlife.
Fallbrook's Chamber of Commerce has more up-to-date information on local events. Old Town Temecula is also close by and if you're staying in Temecula while attending a Fallbrook wedding, make sure to check out the local downtown nightlife! There are plenty of restaurants and nightlife activities in Old Town. See Visit Temecula Valley for more information on Temecula events.
Wedding Planning Articles & Resources
Wedding Timelines for Every Season
What You Must Know Before Booking a Temecula Wedding Venue
Your Guide to Temecula Elopements, Minimonies & Micro Weddings
Avensole Winery Wedding
Corona Engagement Session