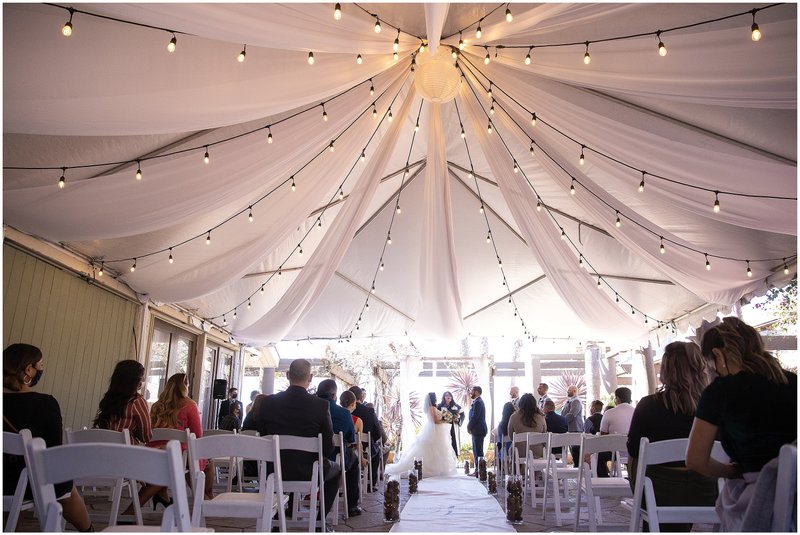 As a wedding photographer, I've been fortunate enough to photograph at this beautiful waterfront San Diego wedding venue. I photographed Estela + Kenny's wedding day and thought it was a gorgeous option for couples looking for a marina wedding venue in San Diego!
It's a unique option in a few different ways – the fact that there are so many different room options to choose from, as well as the ability to bring in your own vendor team. See the article below for a comprehensive look at having your wedding at Marina Village!
About Marina Village Wedding Venue
Marina Village is a San Diego wedding venue located in the Mission Bay area. The wedding venue has 13 rooms dedicated to events that can be rented for your wedding and has waterfront access with marina views.
Guest Capacity
Marina Village has 13 rooms to accommodate a wide range of guests.
Baja – 350 guests
Spinnaker (2nd Floor) – 80 guests
Starboard – 100 guests
Bayview – 250 guests
Dockside – 80 guests
Terrace – 80 guests
Nautical – 60 guests
Marine – 120 guests
Anchor – 80 guests
Sunset (2nd Floor) – 190 guests
Captain's – 280 guests
Vineyard – 50 guests
Coral – 80 guests
2 of the rooms on Marina Village's property can only be rented through Ranch Events.
Seaside Room – 600 guests
Catalina Room – 150 guests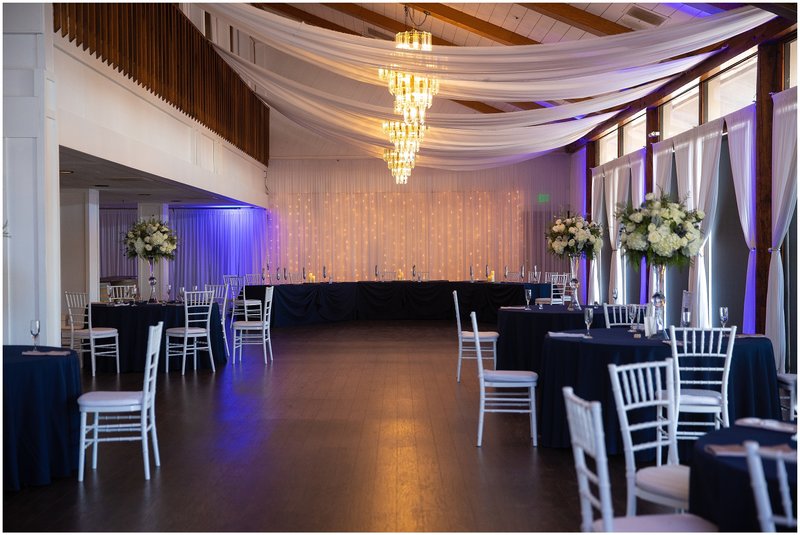 The Seaside Room reception space features hardwood floors, chandeliers, and large windows facing the marina. I really loved the combination of high ceilings, chandeliers and drapings!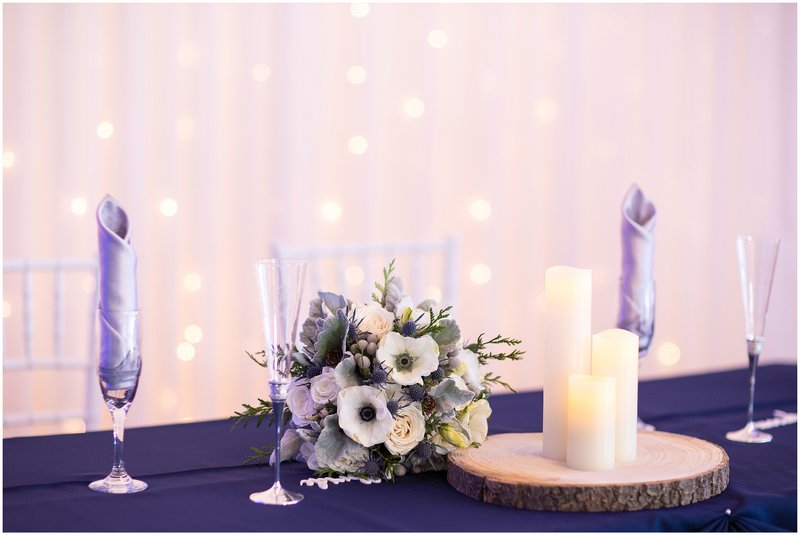 Tulle and lights can be added by a third-party vendor behind the head table inside the Seaside Room reception space. I recommend doing this as it photographs beautifully!
Guest Minimum
For rooms rented directly from Marina Village, there is no minimum guest count. This is because for those rooms, you're able to bring in your own catering vendor.
Coordinator
As Marina Village is a venue where you can bring in your own vendor team, it's recommended you also hire a day-of coordinator to ensure everything runs smoothly.
Ceremony Space Options
Marina Village's ceremony spaces include the North and South Lawn. These can be rented separately from the reception spaces, starting at $700.
100 white wooden chairs and a white wooden arch are included in the rental price. Additional chairs are $2.25 each.
Rice, confetti, and birdseed are prohibited on the grounds.
You receive $100 off their ceremony rental space when you also book your reception at Marina Village.
Included on Wedding Day
Included in the Marina Village room reception rate are tables, chairs, a standard-sized dance floor, and room set-up of the included items. The rental rate includes 5 hours of reception time; additional hours can be added at $200 per hour.
Marina Village only books out one room per day and you will have access to the space for decoration starting at 11 AM.
Items Available for Rental
Linens $8.00 each
Napkins $0.50 each
Change/Prep Room $100.00 each
Belly Bar $10.00 each
Banquet Chairs $3.50 each
1/2 Moon Table $10.00 each
High Chairs $10.00 each
Screen $35.00 each
Sound System $125.00 each
LCD Projector $250.00 each
Risers (4'x4′ section) $30.00 each
Parking
Marina Village has a large parking lot on-site. Parking is free. Since Marina Village has multiple event rooms, it's recommended you provide your guests with a map or detailed instructions on navigating to your ceremony or reception location at the venue. This is especially important as there may be multiple weddings taking place on your wedding day.
Bringing in Vendors
Marina Village allows you to bring in an outside vendor team. Vendors are required to fill out their vendor contact form as well as provide a certificate of liability insurance to Marina Village.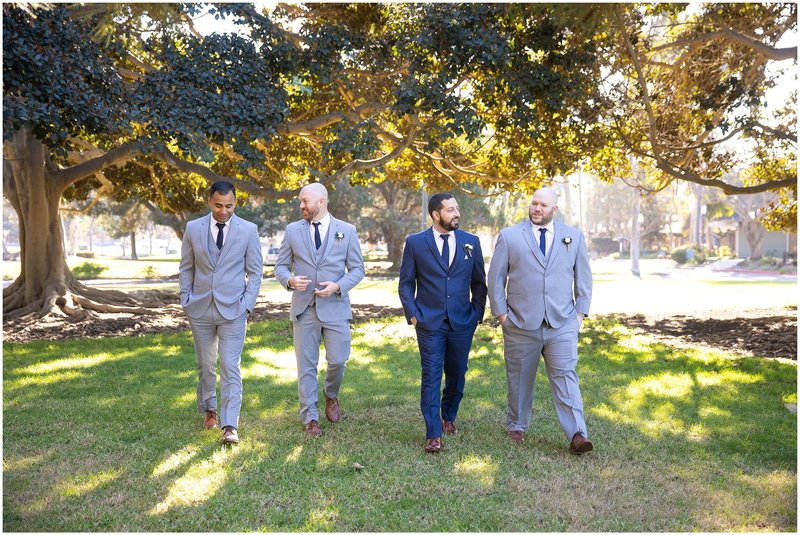 Marina Village is surrounded by a marina and next to the parking lot is a large grassy area. This is a great spot for wedding party or family photos on your wedding day.
Unique Features
Dockside Location
Being that Marina Village is, indeed, a marina, there's some lovely water and boat views that can be captured. The best time of the day to take advantage of these views is around sunset.
Marina Village is also surrounded by large grassy areas, which make for good settings for wedding party and family photos.
Outside Catering and Bartending
The most expensive services you'll require on your wedding day is catering and bar services! Being able to bring these services in to your Marina Village wedding will save you a considerable amount on your wedding day budget.
While this can save you money, I'd highly recommend a day-of coordinator as well. This means you won't have to directly manage all your vendors on your wedding day – they'll have another contact who will help ensure your day runs smoothly!
Access to Venue on Wedding Day
You will have access to the room you've rented on your wedding day starting at 11 AM.
Location in San Diego
Marina Village is located off freeway 8 in the Mission Bay area. For those flying into town at the San Diego International Airport (SAN), it's 5 miles north of the airport.
Nearby Accommodations
Marina Village has a partnership through which you can get a discounted hotel rate at select hotels. The closest such hotel to Marina Village is The Dana on Mission Bay (half a mile from Marina Village).
See more hotels available via the partnership here:
Other hotels in Mission Bay include:
Marina Village is 5 miles from Old Town San Diego and 8 miles from Downtown San Diego. Each of these areas has an abundance of hotels.
Mission Bay
The Mission Bay area, where Marina Village is located, is known for its access to the bay. It's an ideal spot if you'd like to rent paddleboards, kayaks, or bicycles. There's beach access and a few casual restaurants within walking distance. San Diego's tourism website is a good resource for things to do in Mission Bay.
Rentals in Mission Bay
Take advantage of the waterfront location of Mission Bay by renting a paddleboard or bicycle! Below are the two most popular rentals companies in Mission Bay.
Restaurants in Mission Bay
Downtown San Diego
Downtown San Diego is about 7 miles away from Mission Bay – it's well worth the drive to take in the amazing food and attractions!
Downtown San Diego is home to the historic Gaslamp District, and close to attractions such as the USS Midway Museum and Petco Park.
The Gaslamp District is known for its nightlife options for couples. Rent some electric scooters and scoot down to Liberty Station, a formal naval training center now filled with shops and an excellent food court (I recommend Wicked Maine for their lobster tacos!). In the evening, head to the W Hotel's rooftop bar for beautiful views of the city.
Marina Village Address
1936 Quivira Way, San Diego, CA, 92109
Marina Village Website
Marina Village Phone Number
Marina Village Email
More Wedding Planning Resources
Balboa Park Engagement Photos
Everything You Need to Know About A Wedding Day First Look
What to Do if it Rains on Your Wedding Day
Wedding Timelines for Every Season
Wilson Creek Winery Wedding