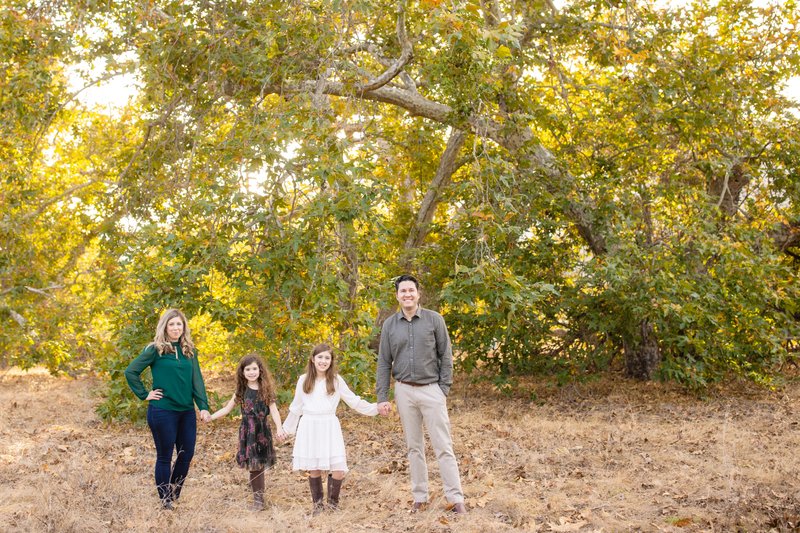 As a family photographer for over ten years now, I've had the honor of photographing some clients' families every single year, and seeing their kids grow up in front of my camera!
Getting family photos taken is a big deal! Not only is there the investment you're making with me to be photographed, you'll need to block out time in your busy family schedule and help to coordinate your family's apparel.
There are many ways that you can make the most of your family session! Below are some tips to ensure you have a great experience and get the best photos during your session!
The Best Time of Day for Family Photos
I prefer to start 1-2 hours before sunset. If we're using one location, we'll start an hour and a half before sunset; for two locations I like to start 2 hours in advance to account for travel time.
The easiest way to determine the sunset time on your session is to Google the city, date and the word sunset. For instance, Googling "Temecula sunset October 15th" tells me the sun will set at 6:14 PM.
The Best Locations for Family Photos
I think of locations in two general categories: outdoor, wilderness settings and downtown, city settings.
For my family sessions, there's no charge for any location within 20 miles of Temecula. Locations outside this area may require a travel fee and depending on the location, a permit fee as well.
Some popular portrait session locations near Temecula include:
Old Town Temecula
Santa Rosa Plateau (Murrieta)
Glen Arbor Park (Murrieta)
Sykes Ranch Park (Murrieta)
Dos Lagos Park (Corona)
Harveston Community Park
Rose Haven Heritage Park (requires a permit)
Think outside the box as well! Do you know someone with a beautiful home or location in the area? I've photographed sessions at horse farms and private estates! The best part about having a truly unique location is that you'll have exclusive use of the space and won't have to navigate around passersby during your session.
To see a full list of options in the Inland Empire, check out my article below!
Inland Empire Portrait Locations
The Best Day of the Week for Family Photos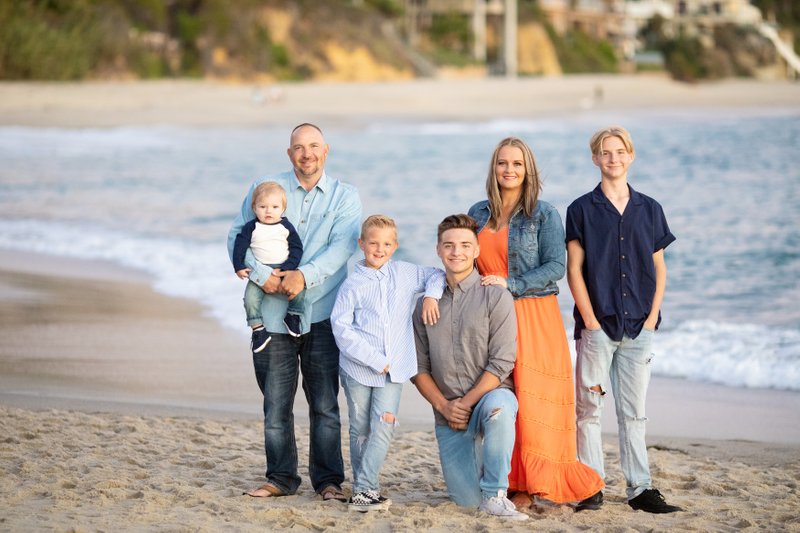 I highly recommend weekday sessions for family photos! Outdoor locations will be at their busiest during the weekend and depending on how popular your location is, you may be "competing" for locations.
If a weekend is what works best for your family, I recommend reaching out about 2 months before your desired date as weekends book up quickly with weddings!
What Month to Book Your Family Photos
It may be easier to phrase this question as what months you should avoid!
Here in the Inland Empire, the hottest months are going to be July – September. This is also when you see a lot of greenery dry up and the landscape start to look a little brown!
For spring color, March – May are great options. June is also a good option, although it's typically my busiest wedding month, so I'd plan on a weekday session if this is your preferred option.
While late fall / early winter isn't as lush as the spring, the light later in the year tends to be very flattering and easier to work with!
Fall is also the time of year that many families start to think about their holiday cards! If you'd like to book a session October – December, I highly recommend reaching out late summer to ensure you're able to get your preferred date!
If you're getting pictures taken in a downtown space, seasonality may not be as important as you won't have as much greenery in your photos.
What to Wear for Your Family Photos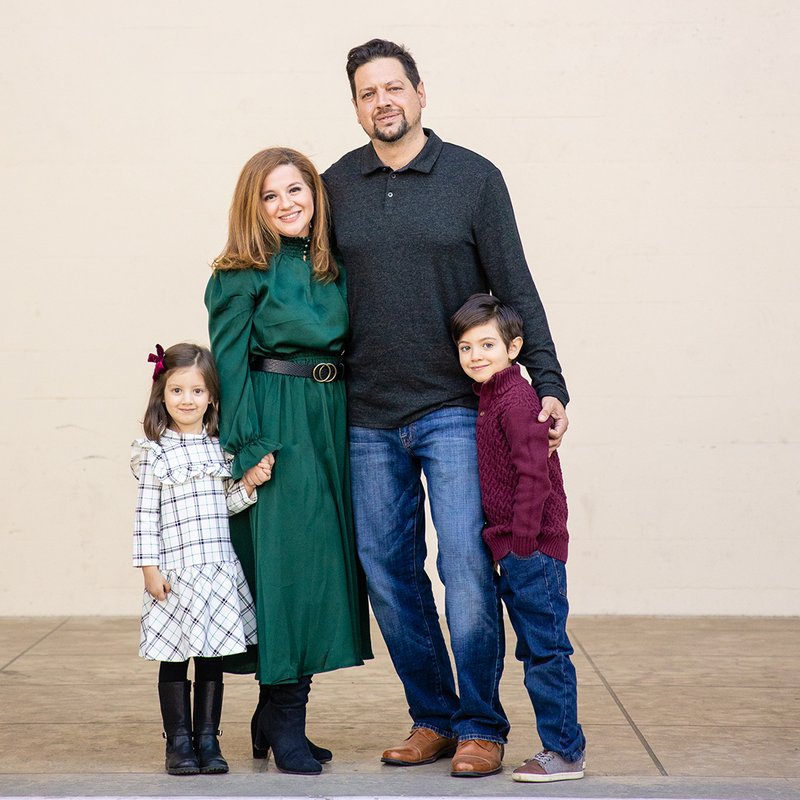 This is the most commonly asked question for families who have just booked their session with me! Below are some of my suggestions.
Coordinate, But Don't Match
We've all seen images of family photos taken at the beach with everyone wearing jeans and white t-shirts! It's natural to think this may be the best way to dress for family photos.
However, dressing like this creates a distracting "visual block" for the photo viewer. Instead of first noticing your faces, the eyes are drawn to the pattern, or clothing that is the same color.
In order to ensure your faces and emotion are highlighted, it's best to coordinate your clothing, and not match.
Think in Color Families
A few of the most common colors we tend to have in our wardrobes are blue, white, grey and pink. If you feel like going out and buying new outfits for your session, great! But it's also very likely you can work within the colors you have.
For a family of 4, here's a sample session outfit within the blue and grey palette:
Mom: Long, navy blue dress
Dad: Dark jeans and light blue button-up shirt
Daughter: Light blue dress
Son: Jeans + a white shirt with some pattern – perhaps white and grey stripes, a blue-checked button-up, a blue shirt with white dots, etc.
You'll note in the sample above I included at least one person with a pattern. In general, smaller patterns look better and large, bright patterns will dominate a photo.
Here's another sample session outfit with red, white and blue (also very popular colors we all tend to have):
Mom: Long, red dress
Dad: Dark jeans and light blue button-up shirt
Daughter: Navy blue dress
Son: Jeans + a white button-up shirt + blue vest + a red tie (so cute!)
Again, you'll see in the sample above I can take many combinations here (Mom + daughter, Mom + Dad, etc) and everyone looks like a group but not matching.
During the holiday season, many families lean into holiday colors. You can use the same concepts as above to create a coordinated look!
Mom: Red or burgundy dress
Dad: Khakis and dark green button-up shirt
Daughter: Red and green plaid dress
Son: Khakis and white button-up with green vest
Step one is always looking through your wardrobes and seeing what colors you already have! Pinterest is a great resource as well, you can search pins with phrases like "Family photo outfits green" and get some great options. The photos you will like the best typically have this coordinated but not matching style!
And of course, I'm here to help too! Sometimes clients send me pictures of outfits they're considering and I'm happy to take a look and offer feedback!
Consider Your Environment
You may want more casual or more dressy outfits depending on your location!
For instance, if your photos are taking place at a wilderness park, you may want to stick to jeans and boots or other outfits where flat/low-heel shoes look
If your photos are taking place in more of a contemporary environment, you may want to dress up a bit more! Perhaps a short dress and heels, or a suit jacket paired with dark jeans!
Beach photo outfits should be more casual – jeans and light-colored button-ups, paler pink dresses with bare feet, etc.
Overall, think about what you would wear within a certain environment and dress it up a bit! You wouldn't wear stiletto heels to a wilderness hike so you wouldn't do so for wilderness photos either!
Colors to Avoid
If at all possible, I recommend staying away from black and white. While I know for me black is one color I have in abundance in my wardrobe, I find it's a bit too stark for most locations, particularly outdoor locations. I'd rather you wear a bright, bold color like red or blue, rather than black.
White can also be tricky; however if one person is wearing white it's less of an issue. The problem arises when multiple people are wearing white, as there are many variations of white and those differences jump out at you in a photo.
Bringing a Pet to Your Session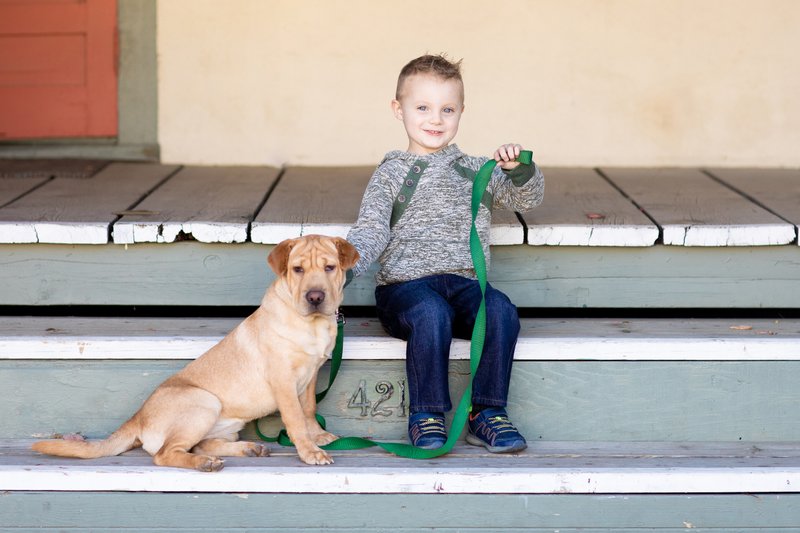 I have a few observations for bringing a pet to my family sessions!
First of all, you know your children best! I have worked with some families where the kids and pets are a natural addition to the session. In other sessions, the kids became very anxious about where the pet was when not in the photo or wanted the pet IN every photo. If you think having your pet there may be an overall distraction to the session, I'd recommend keeping your pet at home.
If your children are a bit older, this tends to not be an issue. However you'll need to bring a friend or family member to take your pet safely away after some larger group shots. This allows you to get some key pictures with your furry family member, and for us to focus the rest of the session on (human) family interaction!
Preparing for Your Family Session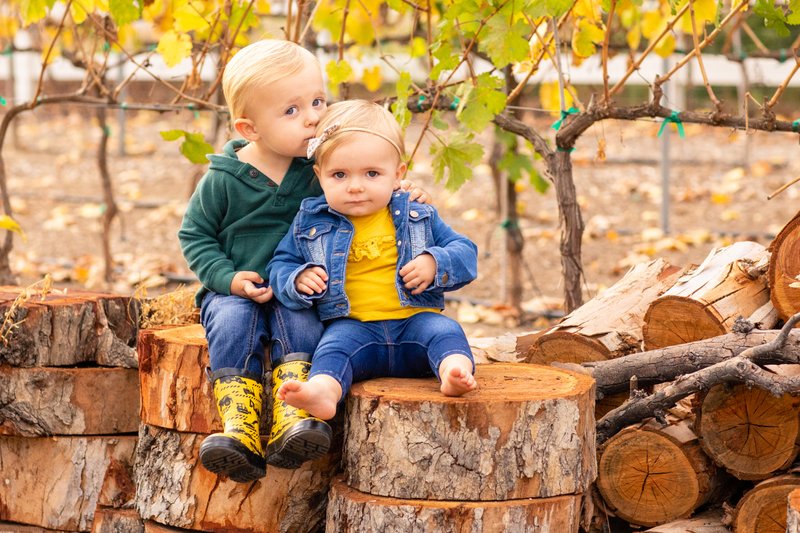 The day of your family session is here! You have your outfits! You may or may not have bribed your children with treats for smiles (hey, whatever works)!
Plan on leaving your house with plenty of time to plan for the unexpected. As we all know, traffic in southern California is unpredictable and it's best to plan for buffer time. Additionally, if your session is taking place in a downtown location, plan on extra time for parking and walking to the meet-up location.
Depending on the length of your drive, you may want to hang your outfits and change on location, particularly if the fabric is prone to wrinkles.
For your children, make sure they're not hungry when the shoot starts. This improves the chances they're in a better mood throughout the session.
Hair & Makeup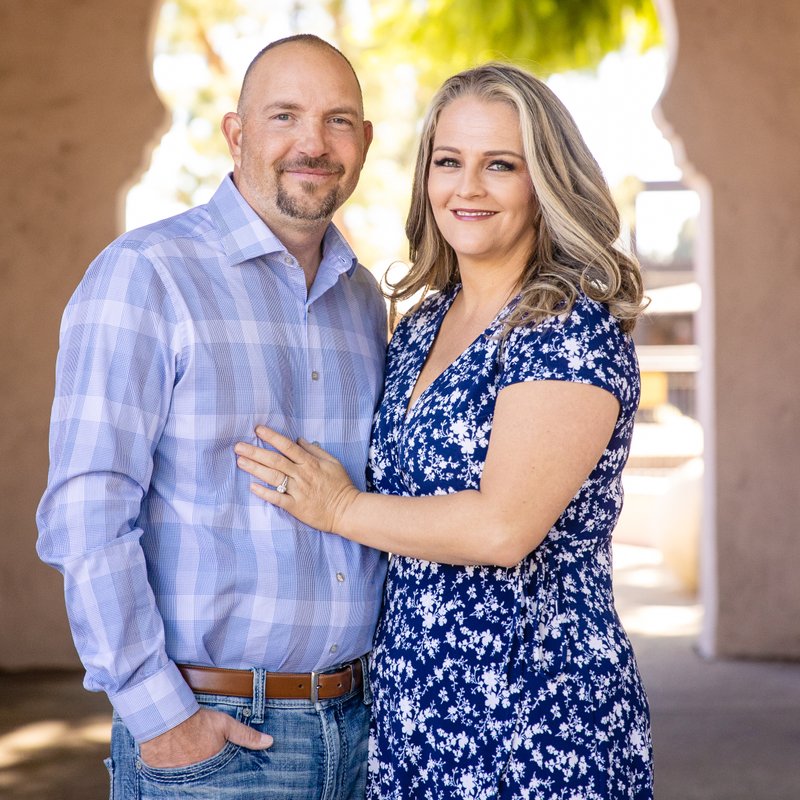 In the words of Donna Meagle, "TREAT YO SELF!" So often parents are behind the camera and the ones taking the photos instead of being in front of the camera. Getting your hair and makeup done is a way to feel your best and that confidence definitely reflects in your photos! If you don't plan on having hair and makeup done, just plan on putting on a little extra makeup to make your features shine!
Spray Tanning
While spray tanning can bring you a bit more color, I wouldn't recommend it in advance of your session if only one party is going to spray tan. This usually means one person will have warm skin tones while anyone else without a tan will have a cooler skintone. This is difficult to color-correct without one person looking overly warm while the other person looks overly cool.
One Week Before Your Session
One week prior to your portraits, I'll reach out with any additional information for your family session. We'll have been in touch prior to choose a location. I'll let you know if there are any challenges with parking, and a specific meeting spot.
What to Expect During Your Session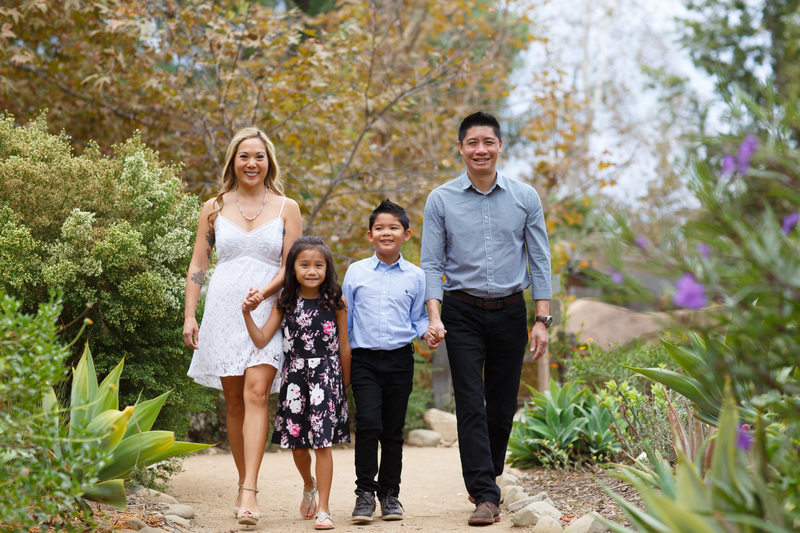 So if you're at this point in the session – your family has arrived on time, you're all looking spiffy and I'm in front of you, camera in hand!
Well the good news here is your hard work and prep are done! I will take it from here in getting great images of your family!
Depending on the age of your children, I'll work with you in a number of different ways! If your children are very young and a bit camera shy, that's where games may come into play! I'll ask them if they can make animal noises, what's their favorite color, can they sing me any songs? These help your kids to connect with me and get some natural reactions!
I'll also be focusing on getting "the" shot – you know, the group image with everyone looking and smiling at the camera! Because kids tend to get bored or distracted quickly, I'll also make sure to get individuals and break up into small groups. Sometimes during the session we also have a quick running break which helps them get out their wiggles!
For older children, often the challenge can be getting real emotion out of them! Again, keeping in mind that most kids are not a huge fan of family photos, I mix up the group combinations and keep things moving to keep all parties engaged!
Overall I am very interactive with you during your session to get you a great variety of fun, family memories from this time in your life!
Delivery of Photos After Your Session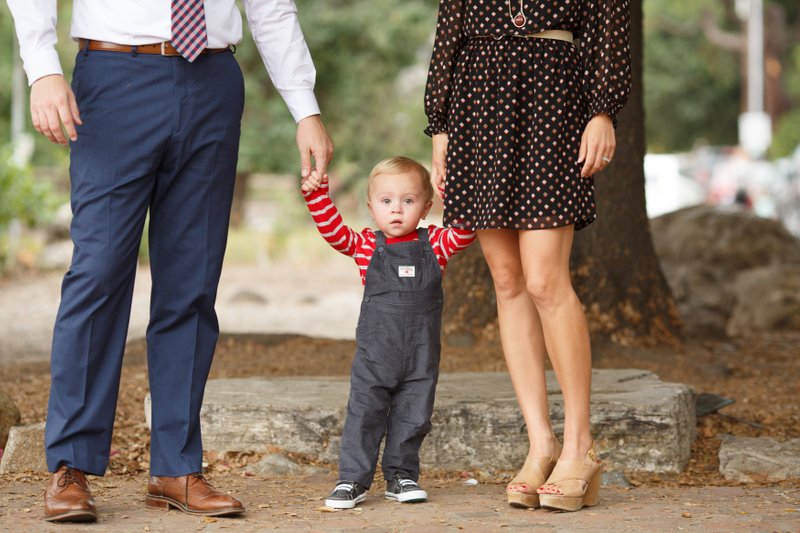 My family sessions come with a gallery of high-resolution images that will be delivered to you digitally within three weeks of your session. You receive a print release with your photos, so feel free to create your own albums or prints!
Where to Get Your Images Printed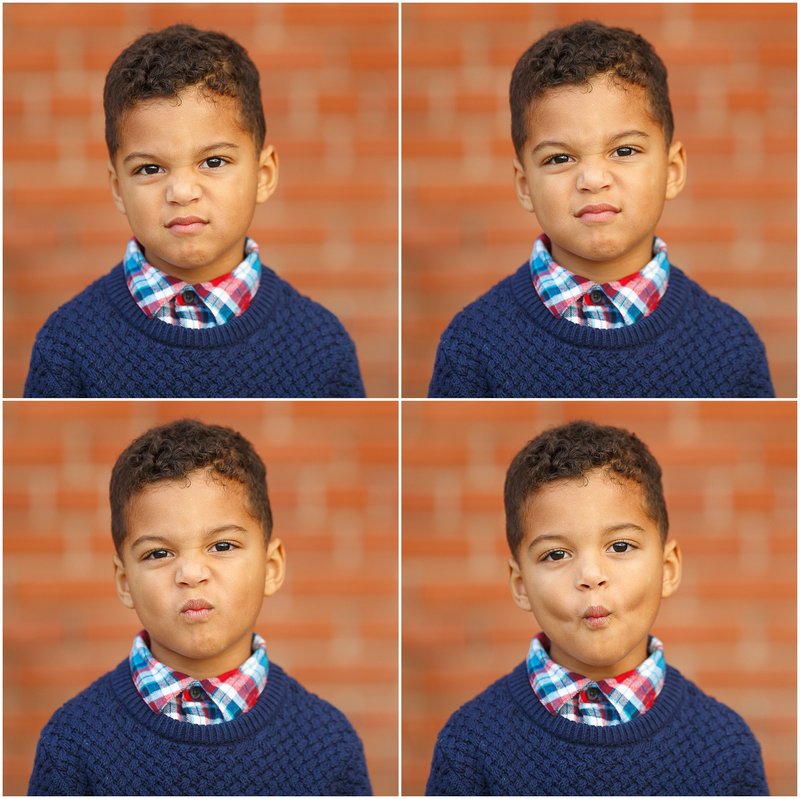 I recommend avoiding retail printing locations for products such as large wall prints or albums. This is because chain stores don't typically calibrate their printers and your colors may look off compared to the images in your gallery.
Mpix.com is an online professional printer and my go-to recommendation!
Family Session Pricing
Check out my Portrait Pricing page to view my current rates for family sessions.
More Articles & Resources
Temecula Family Photographer
Corona Engagement Session
Downtown Riverside Senior Photographer
Murrieta Senior Photographer
Temecula Senior Photographer